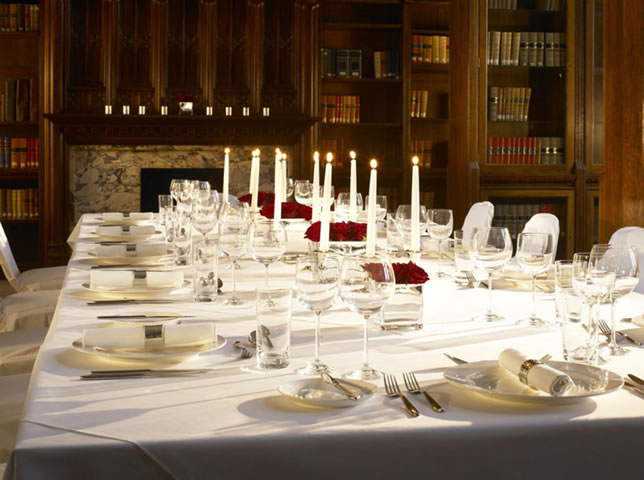 LONDON MURDER MYSTERY DINNER
For a Murder Mystery London is a popular location. You can book your own private party or for smaller groups, individuals and couples our regular event at Browns Courtrooms may be of interest.
We have a wide range of venues around London where we can hold a murder mystery dinner. We can choose them in specific locations to suit your guests and we can match most reasonable budgets.
The above photograph shows the library at Holborn Bars which is next to Chancery Lane underground station. It can be set up for a dinner for around 30 people with a table going up the middle of the room. It is a lovely location for a murder mystery dinner because it's very atmospheric. It almost feels like something out of Harry Potter, and it suits our Cluedo theme very well.
Murder Mystery Dinner Costs
Holborn Bars currently offer a very good three course dinner for £45 per person and the murder mystery itself costs £20 per person for 50 people and £10 per person for 100 people. Contact us with details of your event for a detailed quote.
Divide this to get a per head number. This includes actors, costumes, props and clue packs and police badges for the winning team (always very popular).
Murder Mystery Cocktail Party
We have developed a very successful cocktail party format which means that you don't need a full meal but just bar snacks or canapes. A selection of three canapes typically starts at £15 per person, and cocktails and the murder mystery are extra. Please note that at Christmas most venues have a minimum spend - it's not an easy time of year if you're on a budget. Have a look at our 'event on a budget' tips.
Contact us to discuss your event and how we can best make it work for you. We need to know a date to get firm prices from venues for Murder Mysteries in London.