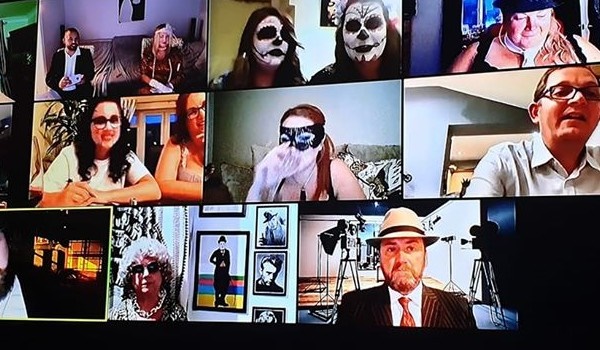 Virtual Murder Mystery
Our Virtual Murder Mystery is suitable for small groups (family, friends, parties) or larger groups (clubs and corporate events). We use Zoom, Webex or Microsoft Teams technology (depending on your preference) and live professional actors, so that each event is unique and you have the opportunity to question and cross examine, just as you would at a live event. You can also hear other players, and watch their reactions on screen.
If your company does not use Zoom we can use one of the other platforms, such as Webex or Google Meet for the murder mystery.
We are consistently getting 5 star reviews for our Virtual Murder Mysteries on Trustpilot, you can see them here.
We can run this for large groups of 100 or more using breakout rooms.
We now have three scripts for you to choose from; a traditional 1920s The Reading of The Will, 007 with A Meeting of Spies and Hollywood Glamour with the film launch of Little House of Horrors.
Our One Actor show costs just £80 plus VAT. Click here for full pricing and booking.
Further Information and Joining Instructions
The Zoom platform is very simple and intuitive. You do not even need an account. We will send you a link that you click on to join the room at the appropriate time.
SUITABLE ATTIRE:
You are more than welcome to wear whatever you want to the Zoom meeting but if you're feeling costume appropriate to the theme is great fun. If you're more comfortable in your own clothes and you'd like to try Zoom's built in 'set background' feature, you're always welcome to do that.
WHAT YOU NEED:
A laptop will give you the best experience, it will allow you to see all the information that's supplied through the chat boxes on Zoom comfortably about the case. But if you'd like to use your phone or tablet, you can do that as well. Just make sure it's propped up in a well lit place so we can see you and you can see us and you don't have to hold the device constantly. For the best experience, make sure your volume is turned up and you're close enough to your device so that your microphone can pick you up.
WHAT TO DO:
An hour before the start time of your event you will all be supplied with a Zoom link via email, that you can click on from whatever device you want to use, and it should automatically take you to the meeting room. It will also ask for a password before you are allowed to join, this will also be sent out in the link email also.
And that's it! You will have some time before getting started to finalise any connection or background things you may want to indulge in (or grab yourself a glass of wine.) Your detective for the evening will lead you through the rest of the event so all you need to do is put your heads together and figure it out.