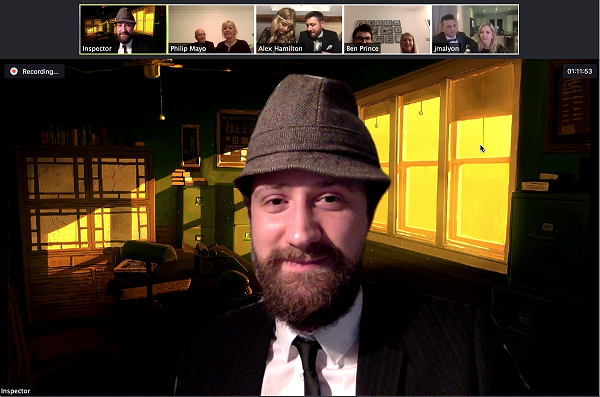 Virtual Murder Mystery
Our Virtual Murder Mystery is suitable for small groups (family, friends, parties) or larger groups (clubs and corporate events). We use Zoom technology and live professional actors, so that each event is unique and you have the opportunity to question and cross examine, just as you would at a live event. You can also hear other players, and watch their reactions on screen.
The format is comfortable for up to 20 people on the screen. If your group is larger then we recommend that you nominate representatives to act as investigators. Others can watch the mystery unfold and work on the clues. We can change invesitigators during the event to give a wider range of the characters in your group.
Click here for pricing and booking.
Further Information and Joining Instructions
SUITABLE ATTIRE:
You are more than welcome to wear whatever you want to the Zoom meeting (within reason!) but if you're feeling fancy, maybe doll up appropriately to the era. Your adventure will be set in the 1920's, so those old flapper dresses and trilby hats you have lying around could come in handy! But if you're more comfortable in your own clothes and you'd like to try Zoom's built in 'set background' feature, you're always welcome to do that.
WHAT YOU NEED:
A laptop will give you the best experience, it will allow you to see all the information that's supplied through the chat boxes on Zoom comfortably about the case. But if you'd like to use your phone or tablet, you can do that as well. Just make sure it's propped up in a well lit place so we can see you and you can see us and you don't have to hold the device constantly. For the best experience, make sure your volume is turned up and you're close enough to your device so that your microphone can pick you up.
IMPORTANT: Make sure before the event, you have already downloaded Zoom, if you haven't, follow this link:
https://zoom.us/support/download
Download the version appropriate to your device, then just install it the same way you would anything else. It's important to remember that you DO NOT NEED A ZOOM ACCOUNT TO JOIN, do if you don't have one, don't worry about making one. If you're on a phone or tablet, this link should take you to the respective App Store/Google play store for you to download the App.
WHAT TO DO:
5 minutes before the start time of your event you will all be supplied with a Zoom link via email, that you can click on from whatever device you want to use, and it should automatically take you to the meeting room. It will also ask for a password before you are allowed to join, this will also be sent out in the link email also.
And that's it! You will have some time before getting started to finalise any connection or background things you may want to indulge in (or grab yourself a glass of wine.) Your detective for the evening will lead you through the rest of the event so all you need to do is put your heads together and figure it out.